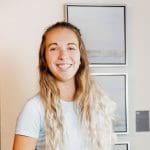 Brianna McFall, DPT
Physical Therapist - Charlotte, NC
Brie received her Doctor of Physical Therapy from D'Youville College in upstate New York, where she is from. Shortly after that, she left Buffalo, NY and moved to Charlotte!
She has experience in settings such as subacute care, outpatient orthopedics, outpatient pediatrics, inpatient pediatrics and the NICU. In these settings, Brie has worked extensively with diagnoses such as developmental delays, Autism, Down Syndrome, Cerebral Palsy, Spina Bifida, toe walking, genetic disorders, gross motor delays, Torticollis, Plagiocephaly, and JIA.
Outside of work, Brie enjoys playing ice hockey, golfing, rollerblading, hiking and traveling with her soon-to-be-husband, John, and their puppy, Mack.