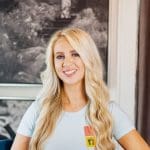 Eden Hodges, COTA
Occupational Therapy Assistant - Charlotte, NC
Eden is an Occupational Therapy Assistant certified by the National Board for Certification in Occupational Therapy and licensed by the North Carolina and Virginia Boards of Occupational Therapy.
Eden attended East Tennessee State University, and obtained a Bachelor of Science in Healthcare Administration. Following graduation, Eden discovered her love for Pediatric Occupational Therapy and pursued a degree at the University of Charleston in West Virginia.
She has worked in various settings including inpatient acute care, pediatric and adult outpatient clinics, home health, and PreK-12 public school settings. She is experienced in Handwriting Without Tears, Zones of Regulation, Reflex Integration, and SOS feeding approach. Eden is passionate about meeting the needs of her patients through creative activities and play, and strives to collaborate with family members and caregivers.
In her free time, you can find Eden exercising, shopping, traveling, and spending time with loved ones!