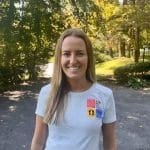 Erin Scanlon, OTR/L
Occupational Therapist - Washington, DC
Erin grew up in the Washington, DC area and is excited to be back in DC making a difference in children's and families' lives. Erin attended Auburn University where she earned a bachelor's degree in Rehabilitation and Disability Studies. She then earned her Master of Occupational Therapy degree from University of St. Augustine for Health Sciences in St. Augustine, FL.
Erin has had experience working with all ages and abilities with sensory processing concerns, feeding issues, handwriting and fine motor concerns, developmental delay, Autism Spectrum Disorder, ADHD, Hypotonia, Down Syndrome, Cerebral Palsy, and other genetic and chromosomal conditions. She loves creating developmentally appropriate skilled occupational therapy interventions focused on handwriting, sensory integration, visual-motor integration, and fine motor skills. 
In her free time, she loves arts and crafts, being outdoors, being by the water, and being active.