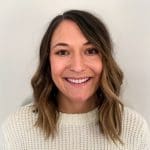 Kendall Mobley, PTA
Physical Therapy Assistant - Raleigh, NC
Kendall is originally from Texas where she completed her Bachelor's at Texas A&M University as well as attended PTA school. She started her career in home health pediatrics in Colorado before moving to North Carolina.
She has experience in both home health and outpatient pediatrics as well as early intervention. Kendall is also a yoga teacher and loves incorporating yoga into her treatment sessions. She has worked with many diagnoses such as Cerebral Palsy, Spina Bifida, Spinal Muscular Atrophy, and Omphalocele among many others.
Outside of work Kendall loves spending time outdoors in any way possible with her husband and 3 dogs including hiking and backpacking.