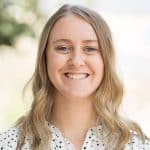 Pia Smith, OTR/L
Occupational Therapist - Charlotte, NC
Pia is a New Zealand native who moved to the US in 2015 on a swimming scholarship at the University of West Florida. As she worked towards her Bachelors of Science in Exercise Science, Pia discovered her interest in Pediatric Occupational Therapy. Following graduation, Pia chose to pursue a Masters of Science in Occupational Therapy from Lenoir-Rhyne University.
Pia gained valuable experience during placements in adult inpatient, pediatric outpatient, and community settings. She has experience working with pediatric diagnoses of Autism, Developmental Delay, Sensory Processing Disorder, Muscular Dystrophy, ADHD, and more.
Pia is a board certified Occupational Therapist in North Carolina. She is passionate about collaborating with families to meet the needs of all patients through play, sensory exploration and building skills that support child development.
Outside of work, Pia enjoys spending time with her husband, dog, and friends, being active, traveling, and enjoying new foods!