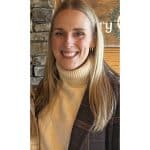 Shelby Huckaba, DPT
Physical Therapist - Charlotte, NC
Shelby is a physical therapist originally from Florence, AL. She graduated with her Bachelor of
Science in Exercise and Sport Science from The University of Alabama in 2018. She then
received her 
Doctorate of Physical Therapy
 from Mercer University in 2022.
Shelby's career has been spent in pediatric settings, treating kids ages 3 months-18 years old. 
She has experience treating a variety of diagnoses, including but not limited to developmental 
delays, neurologic conditions, musculoskeletal conditions, and genetic conditions.
In her free time, Shelby enjoys going to concerts, baking, crocheting, and exploring new things
to do around the Charlotte area.