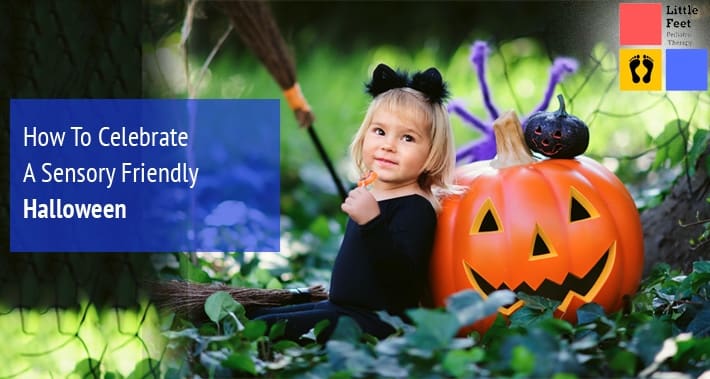 Halloween is associated with bright colors, fun costumes, candy, and well meaning scares.
Some children get so excited about trick or treating coming up that they'll talk about it and play practice months ahead of time.
However, for some children, Halloween and its related events aren't quite so enjoyable.
From uncomfortable costumes to loud sounds and unrecognizable faces, trick or treating can be a bit overwhelming for some.
Autistic children and kids with sensory processing disorder are especially likely to need time to adjust to Halloween's offerings.
Here at Little Feet Pediatric Therapy, our team of pediatric occupational therapists offers autism spectrum disorder treatment and sensory processing disorder treatment, and part of that approach includes helping children adapt to these potentially overwhelming situations.
Halloween is a great opportunity for your kids to develop their social skills and have a lot of spooky fun.
Let's take a look at how to create a sensory friendly Halloween that's fun for everybody.
Why Is A Sensory Friendly Halloween Important?
Autistic children and children with sensory processing disorder may find Halloween to be too much.
There are often loud sounds and a lot of visual stimuli, sometimes even including flashing lights and deliberately scary noises.
Your child might find costumes uncomfortable and may act out due to their discomfort.
It's important to assist your child's comfort so they can enjoy the holiday along with their peers.
You might find that other parents of children with sensory discomforts appreciate your family's efforts in making Halloween a more inclusive holiday for all.
RELATED: How To Recognize The Signs Of Sensory Processing Disorder In Your Child
Tips For Creating A Sensory Friendly Halloween
Once you've decided to create a more sensory friendly Halloween, where do you start?
You can give your neighbors a heads up about your child's difficulties, even making explanation cards.
You can also have your child's candy bucket be a plastic blue pumpkin which is promoted by the Autism Society as signal that your child is autistic or has sensory processing difficulties – more on that later in this article.
Keep an eye out for smaller events and activities leading up to the big day that will help your child ease into the idea of bigger Halloween events.
When an experience can be so overwhelming, from noise to physical discomfort, what are the most important things to focus on?
Let's take a look.
1. First, Adjust Your Expectations
You may have ideas of what a perfect Halloween should look like based on what you loved about the holiday as a child.
It's important to learn to let go of your idea of the holiday and imagine what your child will love, instead.
If you push your child that could exacerbate their frustrations and contribute to sensory overload.
This can not only be stressful for them, it can actually cause them physical pain – and that's not what anybody wants.
It's best to go with the flow and let your child enjoy Halloween in the ways that are unique to them.
2. Show Your Child What Halloween Looks Like
Setting your child's expectations is one of the most effective ways to get them prepared for Halloween.
Show your child photographs, videos, and play music to give them an idea of what to expect.
This will also allow them to ask questions and raise concerns they might have about trick or treating.
Ask your friends with older kids if they can talk to your child about Halloween and what to expect, so they can show them photos and videos of previous trick or treat outings.
3. Make Your Child's Costume Sensory Friendly
Costumes can be heavy, itchy, or come with uncomfortable face paint that makes kids sensitive to sensory input uncomfortable.
One great place to start is by finding a costume that can be made with everyday clothing so your child isn't inundated with new input.
What kind of "closet costume" can your family put together out of the clothes you already have?
Here are some potential examples:
Pumpkin costume – draw a Jack-o-lantern face on an orange sweater
Ghost costume – dress them in a long white shirt
Spongebob costume – draw Spongebob's face on a yellow sweater
Pac Mac Ghost costume – draw their eyes on a long colored shirt
Where's Waldo costume – a red and white vertical striped shirt and a red and white beanie
Also, consider a costume based on your child's favourite cartoon character who wears "normal" clothes, like Scooby Doo, Arthur, or The Loud House.
You could also use comfy clothing as a base of the costume and build the rest around that, giving some separation between less cozy items and your child's skin.
4. Practice Trick Or Treating
Practice makes perfect, and is there anything more fun for your family to practice than trick or treating?
You can have your child practice knocking at the door and saying "trick or treat," and then saying "thank you," after you hand them something.
You don't have to practice with candy – just pick a fun substitute for the trial runs.
You could even rope some other family members or neighbors into the practice sessions so the routine becomes more and more familiar.
5. Choose Sensory Friendly Halloween Events
If you know your neighborhood is particularly busy and popular, you might want to consider going to a quieter neighborhood for trick or treating so it's not as overwhelming.
You can also keep an eye out for Halloween events hosted by local community centers (think malls, churches, or other local hubs).
Halloween events are often organized for children who can't participate in trick or treating, so they'll be lower key and easier to adjust to.
6. Consider Using A Blue Pumpkin
Across the United States, people with autistic kids or kids with sensory processing disorder are beginning to adopt the use of a dark blue pumpkin as a sign that their child is autistic or has sensory processing disorder.
Though not everybody will recognize it, it's a growing movement and will help your neighbors recognize that it will be helpful to tone it down.
Watch for houses that have put a dark blue pumpkin in their Halloween display as well, as they'll recognize what your child's pumpkin means.
Book Your Appointment With Little Feet Pediatric Therapy Today
Creating a sensory friendly Halloween is a great step, but if your child has sensory processing disorder or is autistic, they'll likely need some extra support.
Here at Little Feet Pediatric Therapy, we can help.
Book your appointment with Little Feet Pediatric today.
Little Feet Therapy
►
3535 Randolph Rd, Charlotte, NC 28211
►
1331 H St NW Ste 200, Washington, DC 20005
►
St. Louis, MO
►
Raleigh, NC
Founded in 2019, Little Feet Therapy offers on site pediatric physical and occupational therapy treatments for children from 2 months to 18 years old with physical and developmental concerns. Our clinics focus on providing therapy in a child's natural setting where your child is in familiar surroundings, it puts their mind at ease and helps them focus more on the work they're doing with their pediatric therapist. Our therapists will work with your child at your home, at school, at daycare, or another place in the community where they feel most comfortable.
---