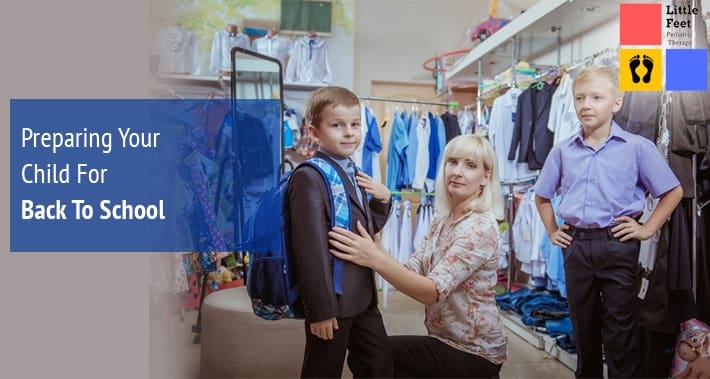 It's about that time of year again.
Back to school season is just around the corner.
The transition from summer fun to back to school routine can be challenging for both parent and child at the best of times.
They have their summer routine which they've enjoyed up to the last day of summer vacation, and then the very next day their routine becomes almost completely different.
This can be stressful for your child, especially if they are neurodivergent.
We're Little Feet Pediatric Therapy, a local occupational therapy clinic for kids, and we want to help make your family's back to school season less stressful.
Below, you'll find some helpful tips for preparing your child for back to school.
Let's get started.
How Can Back To School Cause Stress For Children?
It's no secret that children thrive on routine.
Back to school season is often so stressful because it requires dropping your child's more flexible summer routine in favor of a much more rigid one.
Back to school season brings several changes that can be stressful for your child.
For example, the new school year typically means new teachers, classmates, and schedules.
For some, this school year will be the first time they attend school.
And on top of that, your child may have a condition that makes changes to their routine more difficult to adapt to.
We often see this in our practice when providing occupational therapy for autism spectrum disorder as well as ADHD occupational therapy, among others.
Therefore, helping your child reduce their anxiety surrounding returning to school can help make the transition a bit more manageable.
Back To School Tips From An Occupational Therapy Perspective
Occupational therapy is a unique form of therapy designed to help children better manage the activities of daily living we all need to do.
For a child, their "occupation" is school, as well as their ability to explore the world around them.
So if you try our suggestions and they're still having trouble adapting to a new routine at school, occupational therapy can help.
Here are some tips for preparing your child for back to school while minimizing stress, from an occupational therapy perspective.
Above All Else, Be Consistent
While many children look forward to purchasing new clothes, backpacks, and school supplies in preparation for back to school, others might find the sudden influx of new changes overwhelming.
If your child is feeling overwhelmed, try introducing new changes over time.
For example, you might choose to start with only purchasing a new backpack one week and then purchasing other supplies the next week.
Prepare them by letting them know the plan ahead of time.
It may also be less stressful for your child to shop online rather than in stores, especially if they have sensory processing disorder.
Letting your child choose their own school items can also help them gain a sense of control and independence.
Practice New Routines With Your Child
Don't wait until the last minute to practice school routines with your child.
You should start implementing routines a few weeks before back to school to ensure your child is comfortable and familiar with them.
For example, you can start practicing your morning routine by setting alarms or using a visual aid like a schedule.
Start Your Day With Regulation Activities
Like adults, children feel better throughout the day when they start with an activity that centers, or regulates, them.
Regulation activities for children can come in many forms.
For adults this is often a warm cup of coffee and reading the news. For a child this might be some time in a bean bag chair with milk but might also mean doing animal walks.
Both regulate the sensory system, but in different ways and since all children are different, an occupational therapist can provide you with more examples of activities and help determine the best regulators for your child.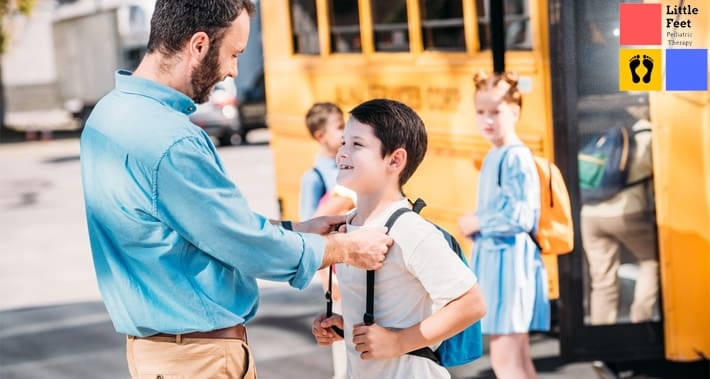 Talk About Your Child's Day
Talking to your child about what to expect at school can help lessen their anxiety about school.
After all, if it's your child's first year in school, they might not know what to expect.
And while the idea of being in school might be familiar to you, it's essentially a parade of new experiences for your child.
It may be overwhelming and frightening – this is especially true for children with autism spectrum disorder, ADHD, or sensory processing disorder.
It can also be jarring for a child to return to school as well, since they had a chance to acclimate to their summer routine – which of course will come to an end.
If there are certain elements of their day causing them stress, you can help reassure them and relieve that stress.
Create A Visual Schedule
A visual schedule is a tool you can create with your child to help them understand what their routine will look like.
This can help provide some predictability and structure to your child's day, decrease their anxiety about upcoming events, build their self esteem and self confidence, and even begin to build literary skills if you associate pictures of items with their related words.
Your child's visual schedule can include breaking down various daily activities down into their individual steps, which helps them better understand how to perform their various activities.
For example, waking up is step one, step two might be eating breakfast, step three getting dressed, and so on.
Leave Room For Flexibility
Even when you do everything right, you just can't plan for the unpredictable.
For that reason, it's important to leave room for flexibility in your child's back to school plan.
Don't be discouraged if a strategy isn't working for your child, and don't be afraid to mix it up and try new solutions.
The most important thing is to communicate with your child and their teachers as you move forward.
When in doubt, reach out to an occupational therapist who can help you come up with a personalized back to school plan that works for both you and your child.
Book Your Appointment With Little Feet Pediatric Therapy Today
At Little Feet Pediatric Therapy, our licensed occupational therapists are skilled at helping prepare your
child for back to school.
Would you like to learn more about our services?
Don't hesitate to reach out.
We offer in person occupational therapy, both in clinic and mobile therapy where we come to you, as well as pediatric occupational teletherapy.
This can help relieve both your child's and your own stress about the experience.
Book an appointment with Little Feet Therapy today to get started.
Little Feet Therapy
►
3535 Randolph Rd, Charlotte, NC 28211
►
1331 H St NW Ste 200, Washington, DC 20005
►
St. Louis, MO
►
Raleigh, NC
Founded in 2019, Little Feet Therapy offers on site pediatric physical and occupational therapy treatments for children from 2 months to 18 years old with physical and developmental concerns. Our clinics focus on providing therapy in a child's natural setting where your child is in familiar surroundings, it puts their mind at ease and helps them focus more on the work they're doing with their pediatric therapist. Our therapists will work with your child at your home, at school, at daycare, or another place in the community where they feel most comfortable.
---