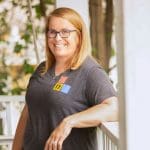 Carrie Burns, OTR/L
Occupational Therapist - Charlotte, NC
Carrie has been practicing occupational therapy for over 15 years. She spent a majority of her career working with acute rehab and long term acute care patients with a variety of diagnoses but her passion during that time was patients with neurological deficits and brain injuries.
After a move from Connecticut to the Charlotte area 4 years ago, Carrie was hoping for a new challenge when an opportunity opened with Little Feet Therapy. Always up for an adventure, Carrie jumped in with two feet and has made an incredible impact on the families she works with.
She specializes in working with children with ADHD, SPD, and fine motor delays. She enjoys working collaboratively with teachers and other adults in the child's life to help change the environment to better suit the child while teaching the child strategies to cope with various environments better.
When not practicing OT, Carrie enjoys spending time with her two boys and husband where they love testing out new recipes, finding the best ice cream spots and playing soccer where Carrie is an assistant coach for her youngest and an amazing baker!  Recently they added a new puppy, Daisy, to their crew who is keeping them on their toes!