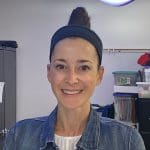 Carrie Choate, PT
Physical Therapist - St Louis, MO
Carrie is a St Louis native and graduated with a masters in physical therapy from Saint Louis University in 2007.  She has spent her entire career working in pediatrics with the special school district and providing in home therapy.
She has worked with children of all ages and all abilities with diagnosis including, but not limited to ASD, cerebral palsy, downs syndrome, and muscular dystrophy.
In her free time you can find her at one of her three children's soccer games or dance recitals, running, indulging in sweets, or relaxing with her husband.