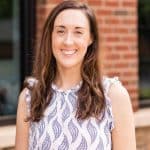 Katie Henriques, OTR/L
Occupational Therapist - Charlotte, NC
Katie is a Charlotte native. She graduated from UNC-Charlotte with a B.S. in Exercise Science and Lenoir-Rhyne University with a M.S. in Occupational Therapy. She conducted her Level II fieldwork in Ecuador where she developed skills for low tech treatment ideas, flexible "on the fly" thinking, multicultural appreciation, and Spanish communication.
For the past almost 7 years she has worked in pediatric home care and outpatient as well as 2 years in public schools. She specializes in areas of sensory processing, visual motor and grasping difficulties, motor planning and coordination, feeding challenges, self-care, play skills, emotional regulation, behavioral challenges, and programs such as Handwriting Without Tears, Certified Infant Massage Coach, Pediatric Yoga & Mindfulness, Changing the ADHD brain, Autism Level Up, and Neurodivergent affirming practice.
She is an eager learner and always researching the best approaches to work with her clients. She is an advocate for inclusivity and working to ensure everyone has access to the quality services and the supports needed in all environments. She loves empowering family and caregivers that they can take skills learned and apply them daily with their children. Play is her favorite occupation and she believes if we can include fun, play, and special interests in the hard stuff we learn so much better!
When she is not wearing her OT hat, she is spending loads of quality time with her 5-year-old, 2-year-old, and Husband. They love being outside in nature, staying active, reading aloud, crafting, cooking together, and sometimes kicking around the ball on the soccer field where her husband coaches before a game.