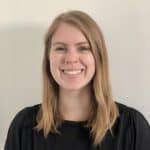 Megan McKinney, DPT
Physical Therapist - Washington, DC
Megan is local to the DC metro area as she was born and raised in Alexandria, VA. Megan graduated from the College of William & Mary with a B.S. in Kinesiology & Health Sciences and a minor in Psychology. It was during her time at W&M that she first shadowed a PT in a school system and knew she wanted to be a pediatric physical therapist. She then went on to pursue physical therapy and graduated with her Doctor of Physical Therapy degree from MGH Institute of Health Professions in Boston, MA.
Megan has been working in the pediatric field ever since, and has experience working with children across multiple settings including outpatient clinics, schools, early intervention, and aquatic physical therapy. Megan works with children with developmental delays, coordination disorders, congenital hypotonia, torticollis, cerebral palsy, idiopathic toe walking, and various other genetic and neuromuscular disorders.
Megan likes to bring creativity and fun to her sessions while working with children in their natural environments to support their progress. Megan's favorite part of being a PT is helping children and their families achieve their goals and celebrating all the wins along the way, big and small!