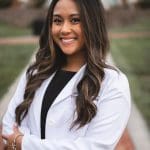 Shania Ibrahim, OTR/L
Occupational Therapist - Charlotte, NC
Shania is a proud graduate of the University of North Carolina at Charlotte, where
she earned her B.S. in Exercise Science in 2019. She furthered her education with a
Doctorate in Occupational Therapy from Emory & Henry College in Marion,
Virginia. With a diverse range of experiences spanning outpatient, inpatient, and
acute pediatric settings, Shania has honed her skills in providing comprehensive
care to children aged 0-18 years old.
Shania's professional journey has equipped her with the ability to effectively
address an array of diagnoses, including neurologic conditions,
 developmental
disorders and delays,
 congenital heart defects, 
sensory processing disorders, and
more
. Her passion for pediatric therapy is palpable in her approach, emphasizing
collaborative partnerships with families and caregivers to empower children to
reach their fullest potential.
Committed to the principles of diversity, equity, and
inclusion, she tirelessly advocates to ensure equitable access to high-quality
services, forging meaningful relationships and offering support where it's needed
most.  Beyond her clinical endeavors, Shania 
enjoys immersing herself in
Charlotte's vibrant culture, 
spending
 quality 
time with loved ones, and 
maintaining