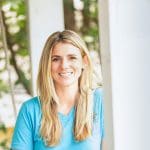 Stephanie O'Connell, DPT
Physical Therapist - Charlotte, NC
Stephanie received her Doctorate of Physical Therapy from the Medical University of South Carolina. She has spent her entire 11 year career working in pediatrics.
She enjoys working in the natural environment and has worked with children with congenital anomalies, developmental disorders and delays, genetic disorders, heart and lung conditions, hemophilia, musculoskeletal injuries, neuromuscular disorders, premature birth or low birth weight, spinal cord, brain, and nerve injuries, sports injuries, torticollis, and traumatic injuries.
Stephanie has been married for 10 years, has 3 kids and 1 dog. When not working or caring for her full house, she enjoys outdoor activities like hiking or being on the water. She also enjoys arts and crafts such as crocheting and making jewelry.