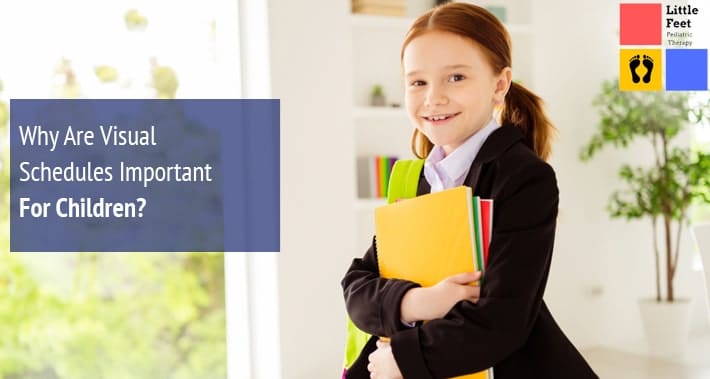 As a parent, there are a lot of things you need to teach your children.
For some children learning these tasks is easier than for others.
For others, it can take a little extra help.
You may have heard that visual schedules are beneficial for autistic children.
As an autism spectrum disorder therapist clinic near me, we know this is true.
But the truth is visual schedules can be helpful for all children.
Here at Little Feet Therapy, a pediatric occupational therapy near me, we often recommend visual schedules to help children move seamless throughout their day.
Let's take a closer look at how they work.
What Is A Visual Schedule?
A visual schedule is a series of illustrations, photographs, words, or even videos showing what is expected of your child.
Visual schedules can be used to help remind your child of the activities of daily living they need to do.
For instance the schedule of a morning routine may consider of pictures showing the following tasks:
Wake up
Make your bed
Get dressed
Brush your hair
Eat breakfast
Brush your teeth
Put your shoes on
Pack your school bag
Walk to the bus stop
They also help children to plan their day.
Like adults, children like to know what is coming next.
But as an adult, we're typically in control of our own schedule, so we automatically know what our day looks like.
On the other hand, your child is at the mercy of the adults in their life.
Not knowing what they're doing or where they're going throughout their day can obviously be stressful.
Often, visual schedules are used in the classroom setting for this very reason, but they can be easily implemented at home as well.
Because we can tell them what's happening, but just like us adults, sometimes children forget what they've been told.
Or we might forget their promised trip to the ice cream shop after school, making schedules a win for everyone.
Why Are Visual Schedules Useful For Children?
Having visual schedules for children to follow can help them keep a stable and predictable routine, which helps lower anxiety and increases compliance
Visual schedules also help smoothly move through transitions from one activity to the next.
This is because there's a clear understanding of the order of the routine and knowing what comes next often eases resistance.
Additionally, visual schedules help reduce negotiations.
Unlike with verbal instructions, where kids can try to negotiate and avoid the task, a visual schedule is already set up to show the plan and expectation.
This is especially true when your child helps create their schedule.
A visual schedule helps your child to understand:
What they're doing
Where they should be while they're doing it
When to start and finish a task
When they're going off task
How to become more independent
What Should A Visual Schedule Include?
A visual schedule includes a visual representation of the activity your child needs to do.
It also has a way for your child to track the tasks as they finish them.
But beyond that, when it comes to creating a visual schedule, it's a good idea to customize it to your child's needs.
For some children, too few pictures might cause them to forget certain steps in the process.
On the other hand, too many might feel overwhelming.
This is especially true for children with sensory processing disorder that affects them visually.
Other factors to consider include:
Will your child need to be prompted to complete their tasks, or can they complete them independently?
Where should you place your child's visual schedule in your home?
Should it be laid out vertically or horizontally?
Should you include written words as well?
Why Are Visual Schedules Useful For Autistic Children In Particular?
Although many children can benefit from a visual schedule, they can be particularly useful for autistic children.
Many autistic people find it easier to process information when it's displayed visually.
In addition, autistic people tend to appreciate routine.
Unplanned changes to a schedule may be stressful for your autistic child.
Keeping a visual schedule can help them keep track of what tasks they need to do, and in what order.
That can alleviate stress.
How To Make A Visual Schedule
If you're considering making a visual schedule to help guide your child through their daily tasks, you might be wondering where to start.
Let's look at some of the factors to consider when developing a visual schedule.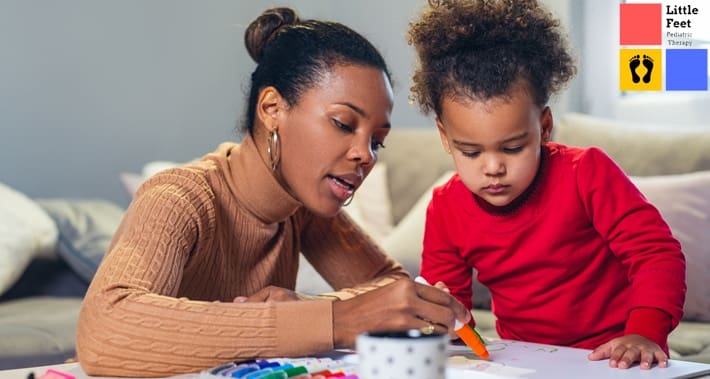 1. Understand The Part Of Your Child's Routine You Want To Strengthen
Why do you want to create a visual schedule in the first place?
Is it to move smoothly through the full day, through their morning or bedtime routine, or just the sequence of packing up their backpack?
2. Get Your Child Involved In The Process
Giving your child a sense of control over their schedule makes them feel empowered and will make them more likely to want to follow it.
Involving them in the process can foster a sense of responsibility, control, and pride.
Even if they only help to arrange the cards in a preferred sequence or make a choice between two options.
Ultimately, you're still in control, but these little choices can give children a sense of independence which helps them thrive.
It can also help improve their decision making skills.
3. Keep A Mix Of Responsibilities And Rewards
A schedule without some form of preferred activity will become tedious over time.
Your child will want to avoid their schedule if it only has responsibilities.
Mix in some things your child likes – play time, drawing time, or reading time – with their responsibilities.
This can help them actually look forward to their schedule.
It also helps them learn to prioritize self care, and setting aside time to do things that make them happy.
4. Put It In An Easily Accessible Location
When deciding where to keep your child's visual schedule, put it in an area your child can easily access and a place relevant to the activities on the schedule.
For example, the morning routine might be best suited for their bedroom, but the full daily schedule might be best in the kitchen or the mudroom.
Whichever location you choose, make sure it's low enough for your child to see and access it.
How Do You Teach An Autistic Child To Use A Visual Schedule?
Once you've decided to implement a visual schedule with your child, take some time to make sure they understand how to use it.
First, make sure they understand the order of tasks in their schedule.
Let them know they can't just jump to the third task because it's more desirable than tasks one and two.
Using, simple language of, "first this, than that" often helps this process.
When you start teaching your child of the concept of using visual schedules, you'll want to start with very simple schedules, and then move onto more complex ones in time.
Provide them with positive feedback and reinforcement when they use their schedules successfully.
This will keep them motivated.
Book Your Appointment With Little Feet Pediatric Therapy Today
Does your child struggle with completing certain tasks, even though they are part of a daily routine?
Do they seem to be falling behind their peers in school?
Are they not meeting the milestones you would expect from a child at their age?
If so, we can help.
Book your appointment with Little Feet Pediatric Therapy today.
Little Feet Therapy
►
3535 Randolph Rd, Charlotte, NC 28211
►
1331 H St NW Ste 200, Washington, DC 20005
►
St. Louis, MO
►
Raleigh, NC
Founded in 2019, Little Feet Therapy offers on site pediatric physical and occupational therapy treatments for children from 2 months to 18 years old with physical and developmental concerns. Our clinics focus on providing therapy in a child's natural setting where your child is in familiar surroundings, it puts their mind at ease and helps them focus more on the work they're doing with their pediatric therapist. Our therapists will work with your child at your home, at school, at daycare, or another place in the community where they feel most comfortable.
---